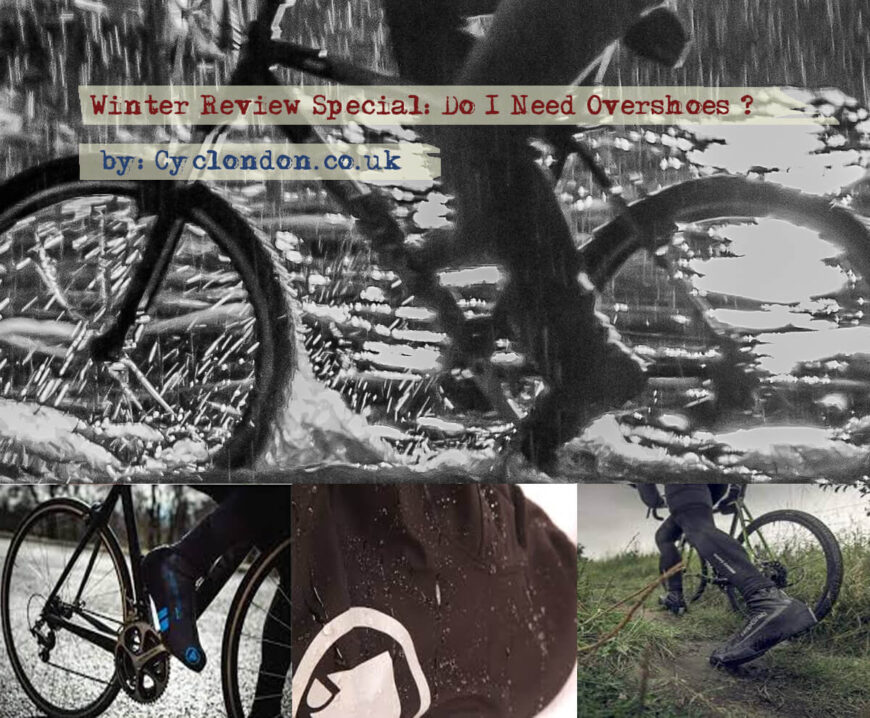 by Cyclist Iain & Cyclist Yoni
---
It's definitely an unpopular subject, but just as important as selecting the right jacket, especially when you're using your bike for the daily commute. Feet. Dry feet to be exact, are amongst what will keep you on your bike during winter, as opposed to staying in, wrecking your brains who delivers chicken noodle soup.
It's the eternal problem right?  The winter cyclists need to stay warm and dry despite the best attempts of the British weather to reduce them to a shivering wreck. This can lead to one of two things.  Either you end up just not going out, or you end up with sore fingers from pushing buttons on the computer to purchase endless combinations of polyester gubbins and new wardrobes to put them in.
While Yoni's experience into winter cycling is rather new, Iain has tried just about every other make, including Castelli, Endura, CHPT3, Gore and Le Col.  Most of these have been the polyester type with some kind of treatment applied to supposedly shed water.  They either worked for a while and then the treatment wore off, or were just useless to start with.  The neoprene type were probably the best, but were so bulky that they caused crank rub which was annoying.
So after trying out a few brands, here's what each of us actually recommended.
The cheap but durable option: Endura – WP Gaiter Overshoe
---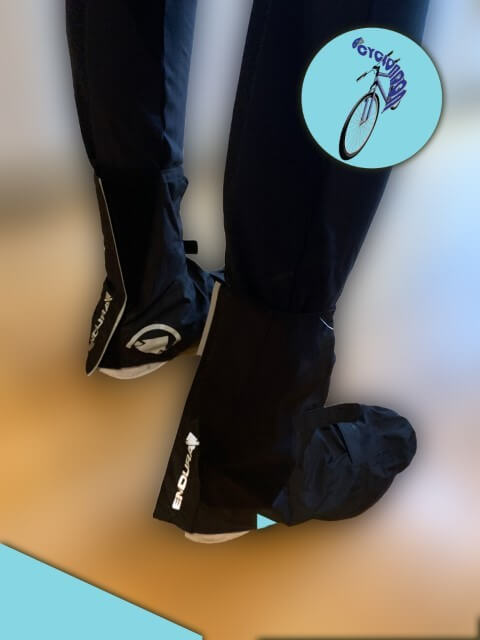 The WP Gaiter Overshoes is Endura's Velcro "fit them all" overshoe. This is a not sophisticated overshoe solution that are easy to store in your saddlebag, as well as to put on in mid ride.
They don't pretend to warm up your feet, nor would the design be suitable to anything but to keep your feet dry. For Yoni's 14 mile commute through the London punishing gutters – they were just what the doctor had ordered.
The WP Gaiters comes with reflectors in form of the Endura logo, which is a nice touch, and they have straps to make them tighter on the foot. They do not have a sole, meaning you can actually keep the shoes your using with no need to adjust, whether if you're using a sport shoe or clipless.
They waterproofing level seems high enough, the three layers Nylon does the job and kept our cyclists' feet dry even in a downpour. Whether this will last? given the material they are made of, it seems rather likely they won't lose their waterproffness, but we shall update over time.
Styling: Not great – they are cumbersome and do look like having Nylon bags on your feet (which in a way – they are).
Value for money – they aren't cheap cheap but for what you get out there, they are very affordable. It looks like they'll last long, especially as no pulling is required to fit them on, so getting a tear would take incredible talent. Bottom line: good low level overshoes, which come handy for a daily commute.
The pro-grand winner:

Grip Grab – Waterproof Knitted Road Shoe Cover
---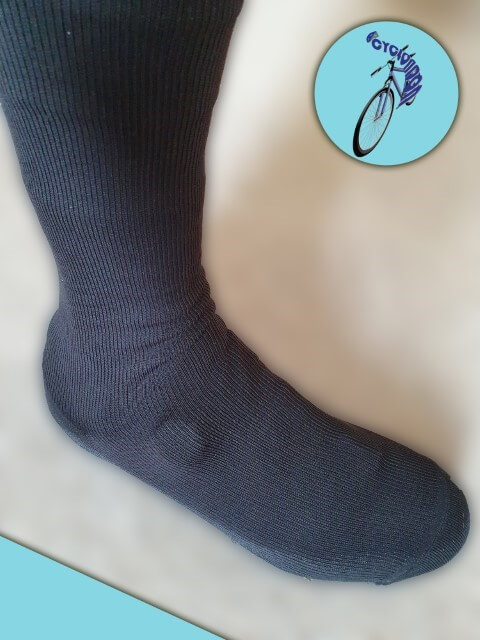 Grip Grab Knitted overshoes use a completely different approach.  Getting them on is so much easier than the normal faff with zips and / or some type of Velcro fastening we saw at Endura.  They simply pull on like a pair of socks and fit very neatly around the cleats.  They also come a decent distance up your calf, so there are no issues with any gaps between them and the bottom of your bib tights or leg warmers.
They also look really cool due to their knitted finish, totally different from their adversaries.
Before we put them on, we ran them under a tap and true to the hype, the water just ran straight off.  Very impressive.  True, this my wear off over time and washing, but there is also a membrane between the knitted layers that should preserve the watertight integrity.
Once on they were very comfortable and extremely warm.  Iain has now clocked about 60km wearing these babies, both in rain and in temperatures down to 0 degrees.  They will keep your feet warm and most importantly dry throughout.  It is true that a small amount of water eventually gets in from underneath, probably through the cleat and heel holes, but this takes quite a while to happen and depends on the specific design of your shoes.
It's worth noting that in extremely cold weather these won't be enough, as eventually the cold will get into your toes.  Another criticism that could be levelled at them is that there is not a great deal of reflective elements, but this is not a massive problem if you have this sort of detailing on the other garments you are wearing.
To sum up, they are a very simple and effective design that fit well, perform well and look good. They don't come cheap, but are cheaper than some premium brands.  At the time of writing these are only available directly from Grip Grab.