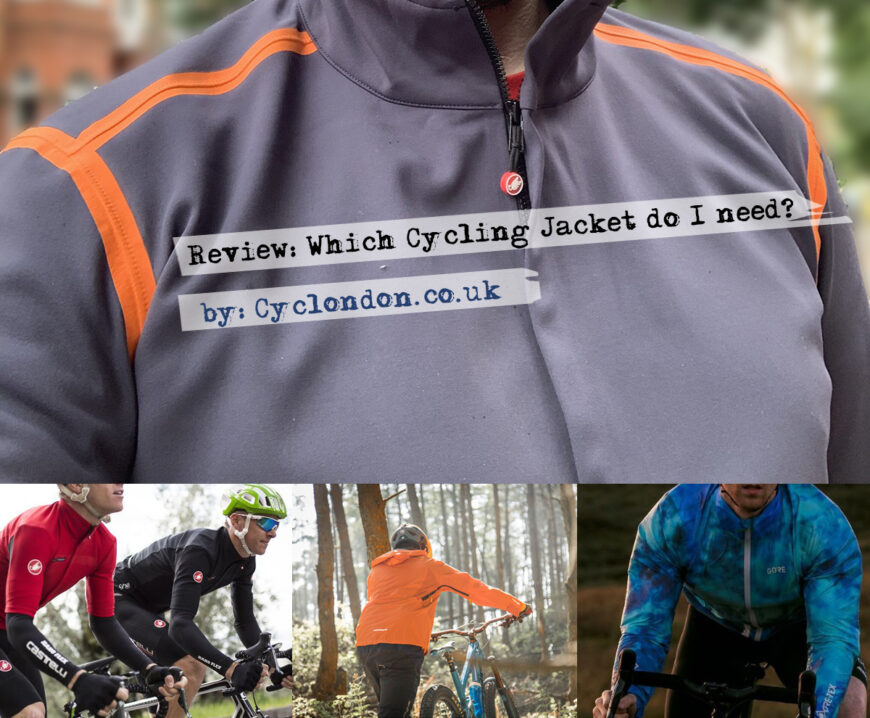 by Cyclist Yoni, rides Brompton, Gravel and MTB
---
One of the aims of Cyclondon blog is to help cyclists getting comfortable with cycling. Those of you who have just now taken on cycling, need to think about cycling throughout the entire year, especially if you are planning to keep at it for your commute. Moreover, now when cycling is getting popular around the UK to the level of so many out of stock items, you may want to take advantage of the hot weather and decide "Which cycling jacket you need" for when winter comes. We will try to help you with a comprehensive cycling jackets review.
"Which cycling jacket you need" can be an overwhelming question. There are many categories to chose from, and many brands, each offering "the best for".
In this cycling jackets review, we will try to explain the different kinds of winter cycling jackets you can find, while pointing out a few brands. As cycling is a seasonal sport for some people, it's true that prices of cycling gear tend to go down during the winter, however this is mainly true for bikes. Equipment, especially winter gear, would be hard to find on sale in the cold months, just like no street merchant would knock off the price of an umbrella when there's a downpour. If anything – we'd recommend using the hot summer days to get this one sorted.
Softshell Jackets : 'all arounder'
---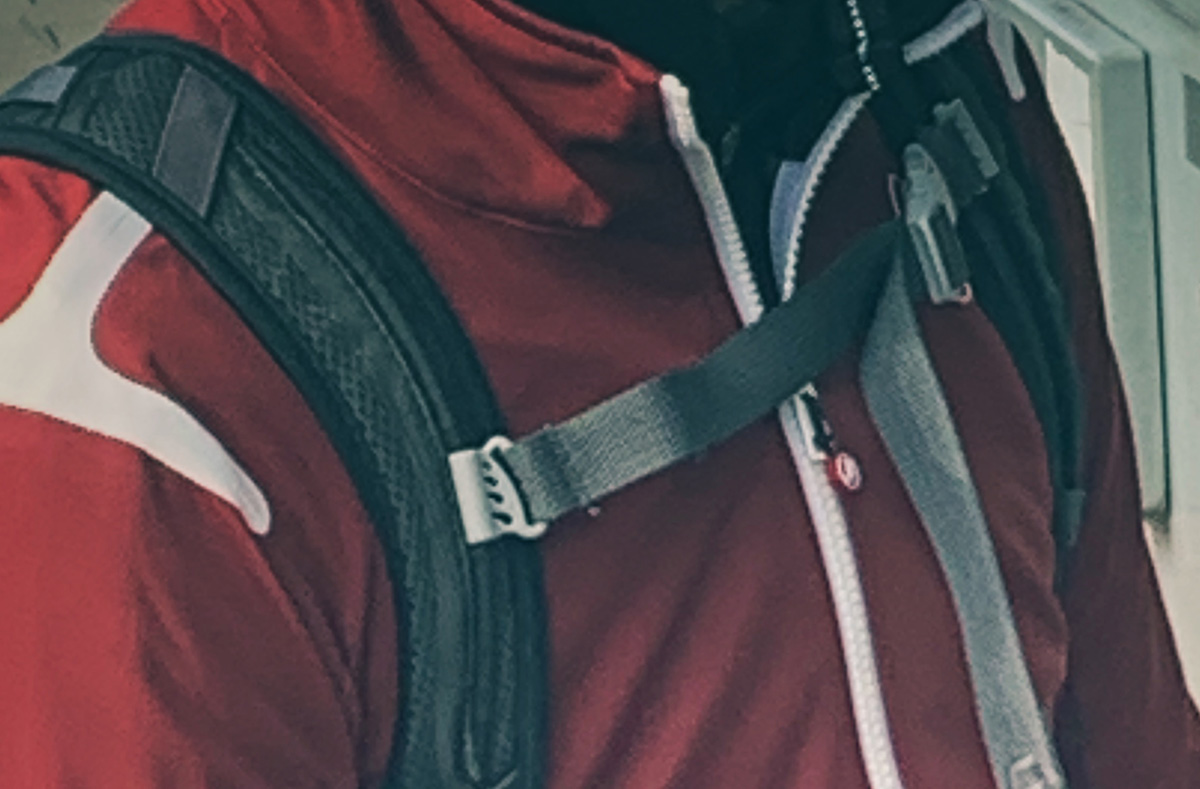 The softshell jacket is a relatively new line of cycling jackets. They are windproof and water-resistant to a level that will endure light showers throughout the day, or heavy rain for a short ride.
They are made of smooth face fabric and normally a warm fleece or gortex inner layer – making them suitable to changing weather conditions. They are warmer than rainproof nylon based shells but more breathable than heavy waterproofs. In countries such as the UK, where there are changeable spring and autumn weather – they are excellent.
Among the best choices you'll find the Castelli ROS line (which includes the light Perfetto and the heavier Alpha ROS), they exclusively use GORE-TEX INFINIUM™ WINDSTOPPER® fabrics, and a light fleece-lined water-resistant version on the forward-facing surfaces and a lighter, stretchier fabric on the back that maintains the breathability.
Another good option is the Endura PRO SL Waterproof Softshell Jacket, which is engineered for wet weather: waterproof yet breathable, using a comfortable stretchy softshell material with a brushed inner layer.
💡 When buying a softshell jacket, it's very important to chose whether you want it fitted (tight) or slightly loose, in a way which will allow you a thicker baselayer in winter. Castelli, as an example, are notorious for being very tight (slim Italian men fashion I guess), so if you normally wear a Large, and wish to use it in the height of winter – opt for an XL or even XXL.


Also, you might want to consider getting a rain (over) jacket for when it gets really bad (as these don't remain waterproof in heavy showers). See below.
Hardshell Jackets: for when it is really winter
---
At the premium end of the market and designed for the toughest of winter conditions are the waterproof jackets, which are intended to be worn as an outer layer. Most of these have a fully waterproof external membrane called a Durable Water Repellancy layer (DWR) which will keep out all moisture.
Waterproof jackets are rated for their waterproof rating vs. their breathability. They normally have a separate mesh layer between you and the exterior membrane which is aimed at helping to prevent moisture buildup.


While we try to find the most cost effective ones, the higher end jackets will have various water resistant features such as: fitted/closed cuffs and zips, storm flaps and welded seams, fleece-lined collars, and laser-cut, thermally welded seams. Even the most advanced waterproofs will struggle to cope with the amount of heat and moisture generated by a rider putting in effort on the pedals, so also look for adjustable venting systems (armpit zips, removable sleeves, vents at the back) that allow cool air to flow in.
💡 The DWR can become less effective over time, however there are treatment to restore it.
Among the best choices out there is the GORE® C5 GORE-TEX Active Jacket, which is not tight fit and is completely waterproof. Another good choice is the same line's C3 Windstopper® Phantom Zip Off Jacket – which has removable sleeves, much like a Gabba.
The Endura MT500 Waterproof Jacket also comes highly recommended online, although it weighs more the twice of some of the other options – so it is more suiting, in our view, to horrendous weather conditions.
Gabba: A Classic
---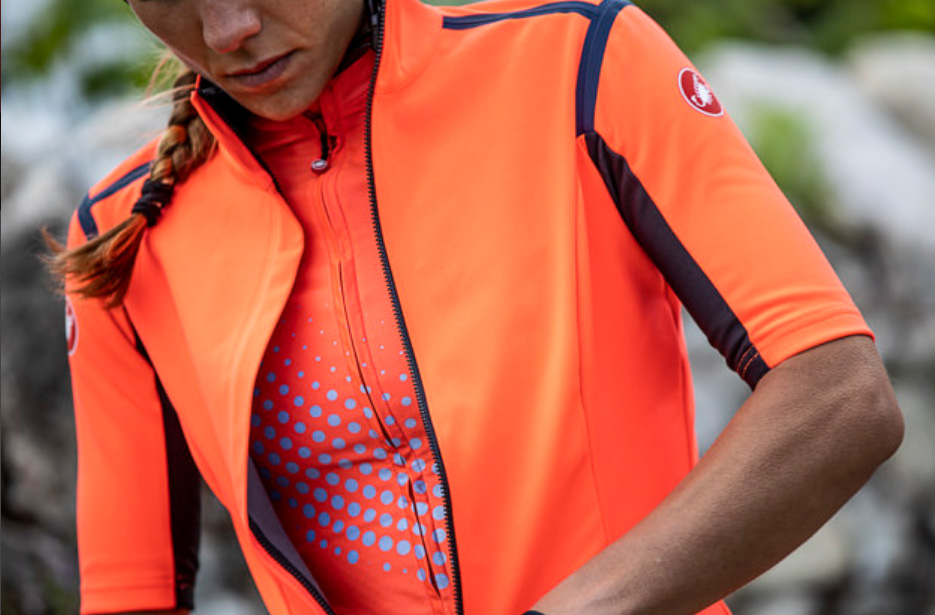 No cycling jackets review is whole without the Castelli Gabba, a short sleeve yet sturdy jacket in essence, that was released at 2010. However, it was during the 2013 Milan-San Remo competition when it really made its entrance to the cycling world. During that race, the weather was horrendous – freezing cold, heavy showers and snow. Many of the pro peloton teams were ready to breach regulations and bought in regular stores the waterproof yet breathable Gabba, that no other brand manufactured, even if Castelli was not their sponsor. Thus, many cyclists were seen wearing a black jersey which was the original Castelli Gabba, with the Castelli logo blackened by a marker.
💡 Other manufacturers have rushed to develop products to compete with the Gabba and match its performance in awful weather such as Parentini's Mossa or Stolen Goat's Orkaan, which they classify as a jersey rather than a jacket. Castelli answered with Gabba mark 2 and now 3.
Rainproof shells
---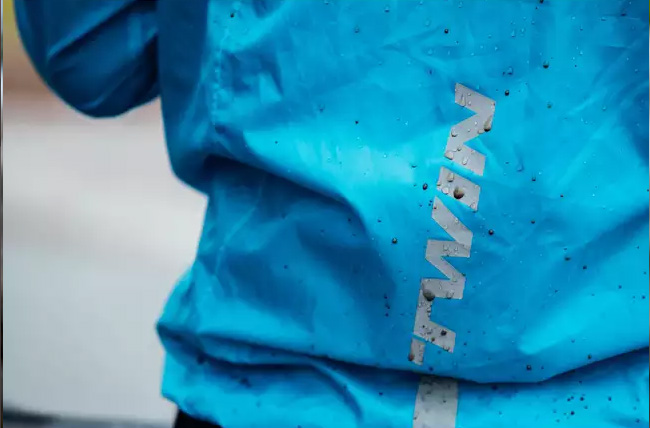 Another option is using fleece or any base layer you prefer for warmth, while covering yourself with very thin and lightweight jacket made of showerproof fabric. Personally I find them better as an 'emergency option' for the UK's changeable weather, rolled up in the saddlebag. They don't offer much insulation.
While branded ones will cost plenty, the cheapest and most value for money option is Decathlon's TRIBAN RC100. While it may cramp up your style, it's a bargain. It comes in high visibility coloures, and will leave you dry and not high.
What to look for?
---
So among all the terminology that this cycling jackets review mentioned, here are some basic things to look for before making your decision:
🚩 Check that the waterproof protection rating suits your needs: Waterproof protection rating, measured in millimetres (mm) indicates how many millimetres of water the fabric can be submerged in before the garment is penetrated and water begins seeping through. The higher the number of millimetres, the more waterproof the jacket is.
Up to 1,500mm = very light rain; 1,500-5,000mm = average rain; 5,000mm+ = moderate to heavy rain; 10,000mm =heavy rain.
🚩 Check the Durable Water Repellency (DWR) layer: As said, the DWR is Waterproof treatment for the outside of the fabric. All garments sold in the UK are sold in waterproofing levels known as PSI, or Pounds Per Square Inch. To be 100% waterproof, the British Standard of 3 PSI has to be met, which can withstand 1500mm of pressure. However most garments typically exceed this level – and are often made at 40 PSI.
🚩 Does it have Microporous membrane?  Microporous membranes are essentially the pores that make a waterproof layer. This technology allowa moisture vapour (from sweat) out but prevent bigger drops (from rain) from getting in.
🚩 Pit zips: Zips under the armpits that can be opened up for venting seems excessive, but when the weather is hot yet wet, these will be a treat for inducing ventilation and cooling you down.
🚩 High visibility : Opt for high visible features if not a high visible colour. This can be: light reflector stripes, glow in the dark segments/fabrics or simply vivid colours. Studies show that ultra colours such as road vest ultra-yellow are seen in the night significantly sooner than other colours.
🚩 Do you want it Loose or fitted?
A loose-fitting softshell with enough room for underlayers is an excellent 'general-purpose' cycling top that can be used on its own or with base garments to cover a huge range of conditions. However, if you are planning to ride competitively, then you might want the jacket tighter – so it will be light on your skin.
Ask the question, don't be shy. As said, the Castelli are tight, so you might need an XXL instead of your normal Large for an 'all arounder' jacket; The Gore are heavier and your size may need to be exact. Make sure to ask the store and to try them on.
---
In conclusion, I've tried to help you a bit in preparing to winter, or at least to the UK's changeable and at times adverse weather conditions, which as we all know – tend to happen during summertime too.
If you need to take only one thing from this cycling jackets review post, please let it be this: every cyclist have different needs and tastes. While one may need an all-weather jacket, another may need something to keep him dry on his commute. These jackets don't come cheap, so make sure you pick the one that is the most suiting for you – and not some brand name that a mate recommended or a salesman is pushing.
Finally, some workplaces allow an annual participation in the Cycle to Work Scheme. This scheme, if you are unfamiliar, is meant to get you a tax-free and interest free loan to get bike (intended for your daily commute). Now, you can use the scheme also to get accessories and bikewear, so make sure to check if your workplace has this in place – a 30-40% discount divided to 12 monthly payments is a sweet deal for any jacket.
Good luck and cycle safely!