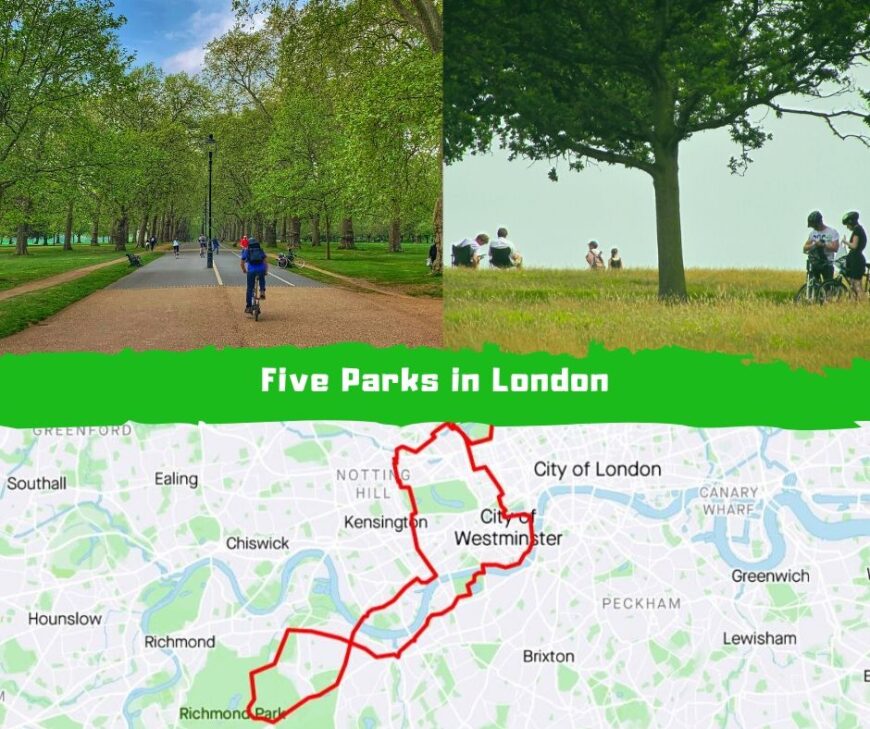 by Cyclist Yoni & Cyclist Chris, both ride Brompton
---
📏Distance: 27 miles ⏱️ Duration: 2:30 hours 🚴 Difficulty: Beginner  🚲 Terrain: road 
---
Last Sunday we've taken on a rather "social cycling route". It was fairly long, but when you're riding in a group, the aim is not necessarily to find the highest cat-hill to climb or the hardest terrain to cross. Instead, we opted for a route where we could wash our eyes with great city-scapes , with a moderate plus effort level. We've named this route 'Five Parks'. Recommended for beginners with enough stamina for two and a half hours of cycling, or advance riders – who wants an easy one for a change.
Unlike what we had done in other route descriptions, we feel that when it comes to easier 'social cycling routes' like this one, there's no real need to give an account of the different turns and roads, as they are pretty straightforward. At the end of the day, even if you take the wrong turn – the city navigation would be pretty easy to detour and compensate, and 'getting lost' is not a genuine concern as long as you have the general bearing in mind. Instead, this review will give a summary of the cycling routes in the five parks themselves.
Another note – This social cycling route has been designed to be circular (!)  Effectively you can start from Regent's Park, like Yoni, Richmond Park, like Chris, or meet somewhere in the middle and cycle together along some of it – which makes this a perfect social gathering for people from all around London.
Hyde Park
The cycling route in Hyde Park is extremely easy to follow. Being the most touristic patch of all of London's parks, it needs no introduction. The wide road crosses the park from North to South, and then either spirals east parallel to the Serpentine stream, or keeps straight towards Kensington. On sunny days this place would be infested with visitors, who are enjoying the warm boardwalk of the Serpentine river, visiting the Serpentine Gallery or simply enjoying Princess Diana's Memorial Fountains.
The road then circles the park from the south to east on South Carriage Drive. It then goes back to the North from the east side of the park – parallel to Park Lane (running between Hyde Park Corner and Marble Arch) which turns to the North Carriage Drive – where the famous Speakers' Corner is.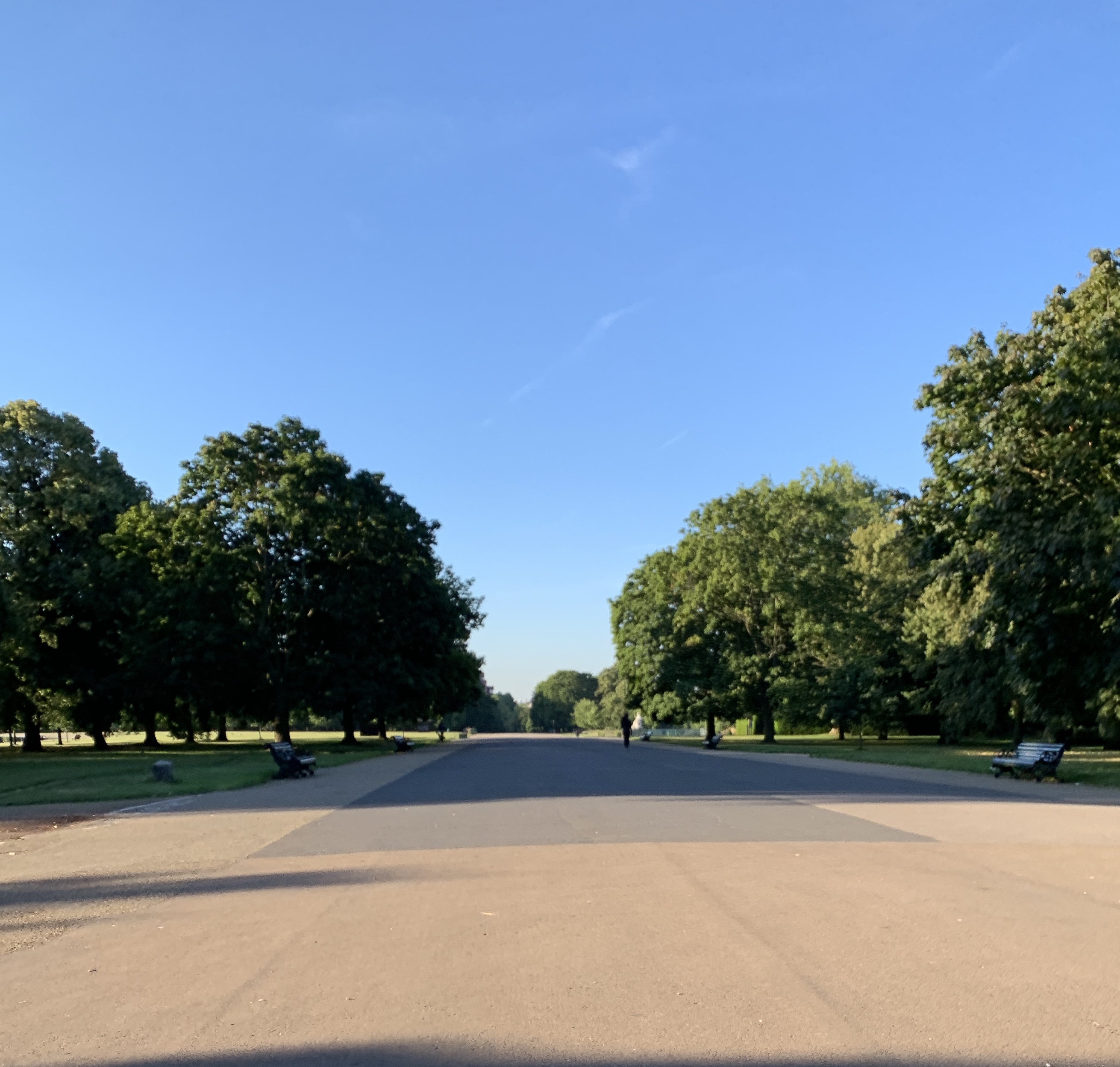 Leaving the park from the East-South (Hyde Park Corner) would put us on a direct cycling path – Constitution Hill which runs straight towards Buckingham Palace and St James's Park.
This is actually a path which runs south to Green Park, but because there are no real cycling routes there we've refrained of calling this 'Six Parks'.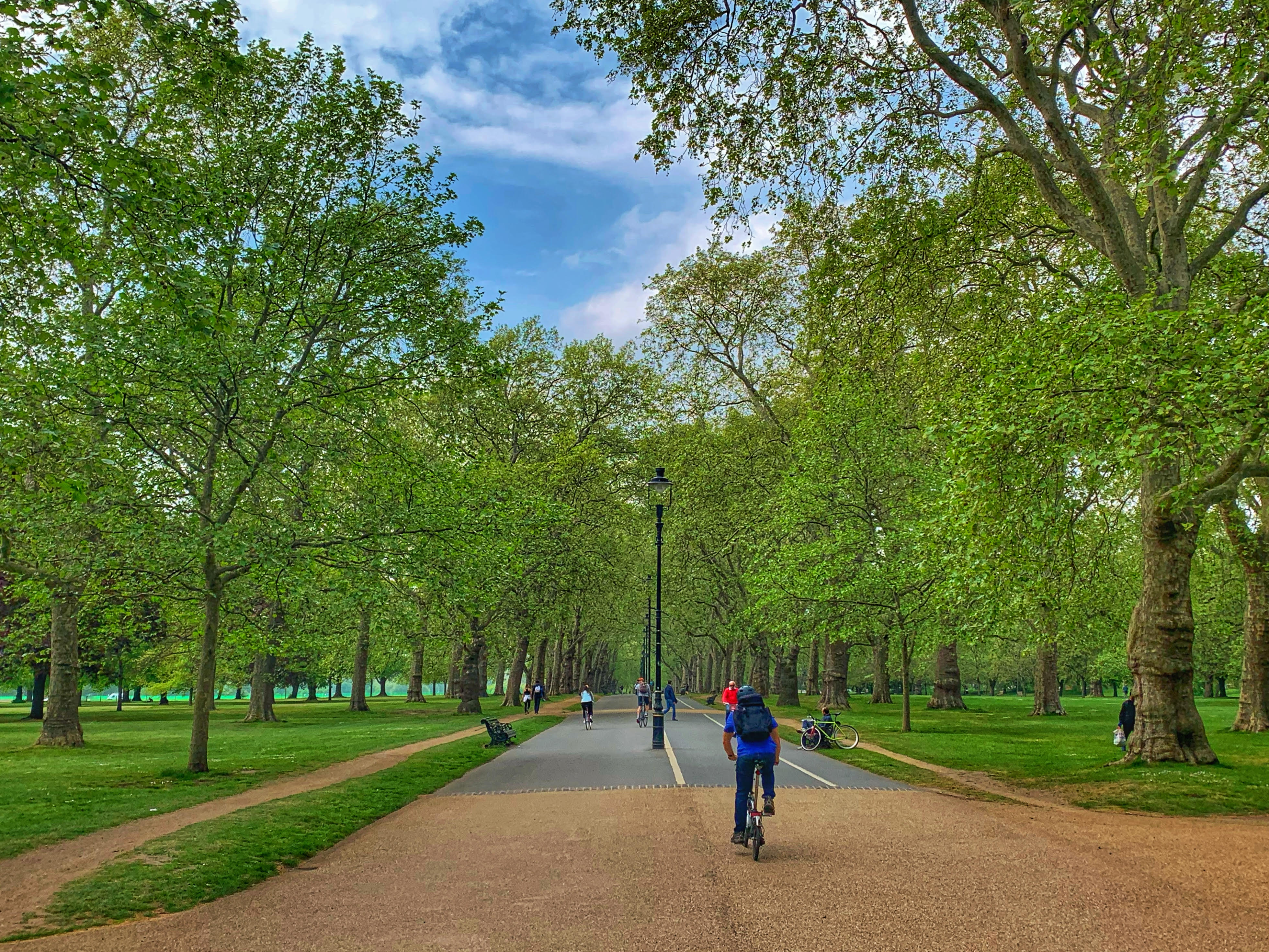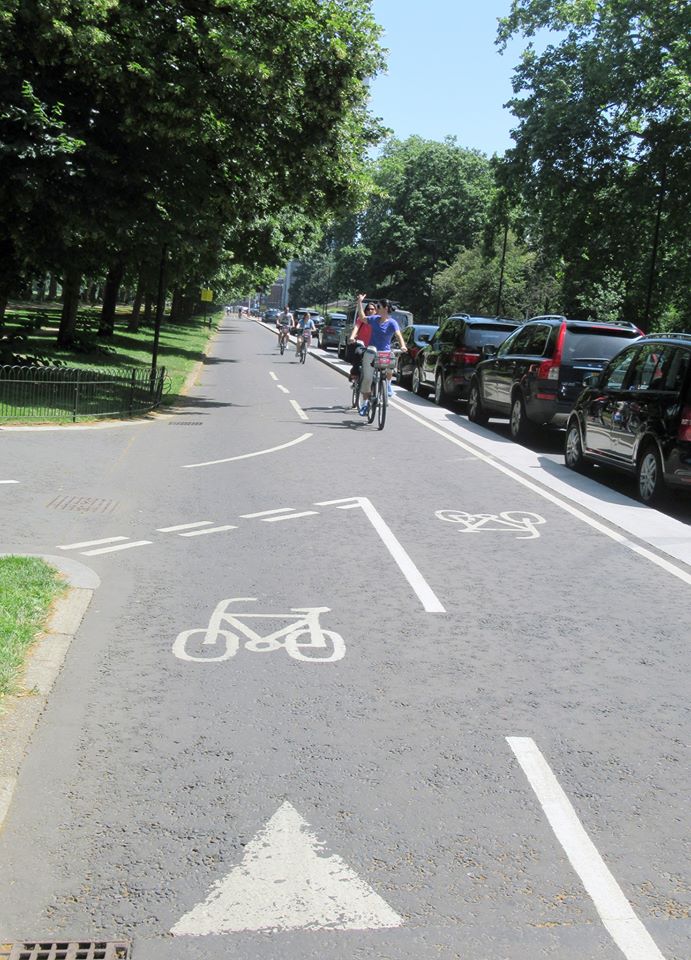 St. James's Park
You can only really cycle around St James's Park, either on the north, which is actually The Mall (all the way to Trafalgar Square) or on the south via Birdcage Walk. This is a great cycling road, which will let you throttle at full speed towards Parliament Square and Westminster.
St James's Park is lovely, whether to try and spot some Cherry Blossoms, in season, or to relax by the pond. That said, unless there's the specific annual Brompton race, it is not the best place to cycle, but mainly to cruise by.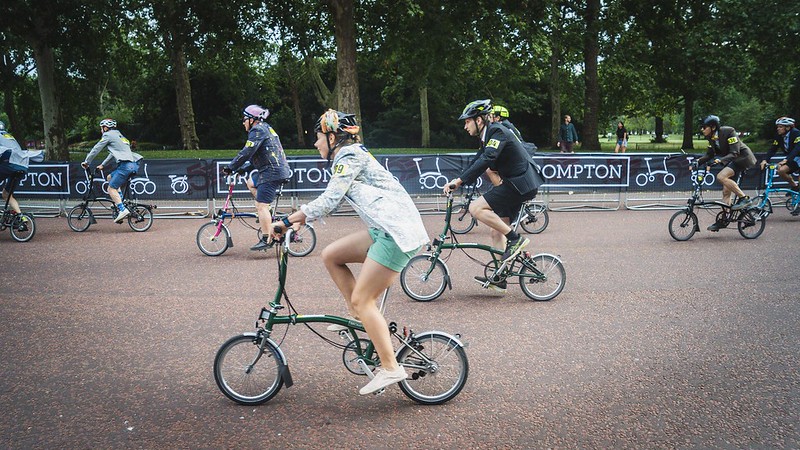 Battersea Park
The approach to Battersea Park can be achieved either from the east (via Chelsea Bridge) or from west to the park (via Albert-Bridge Road). The park itself isn't big, and has a circular-ish road which runs through it.
A good point to stop and relax is off the cycling road, where we've actually brewed some coffee, on the pedestrians path overlooking the Thames.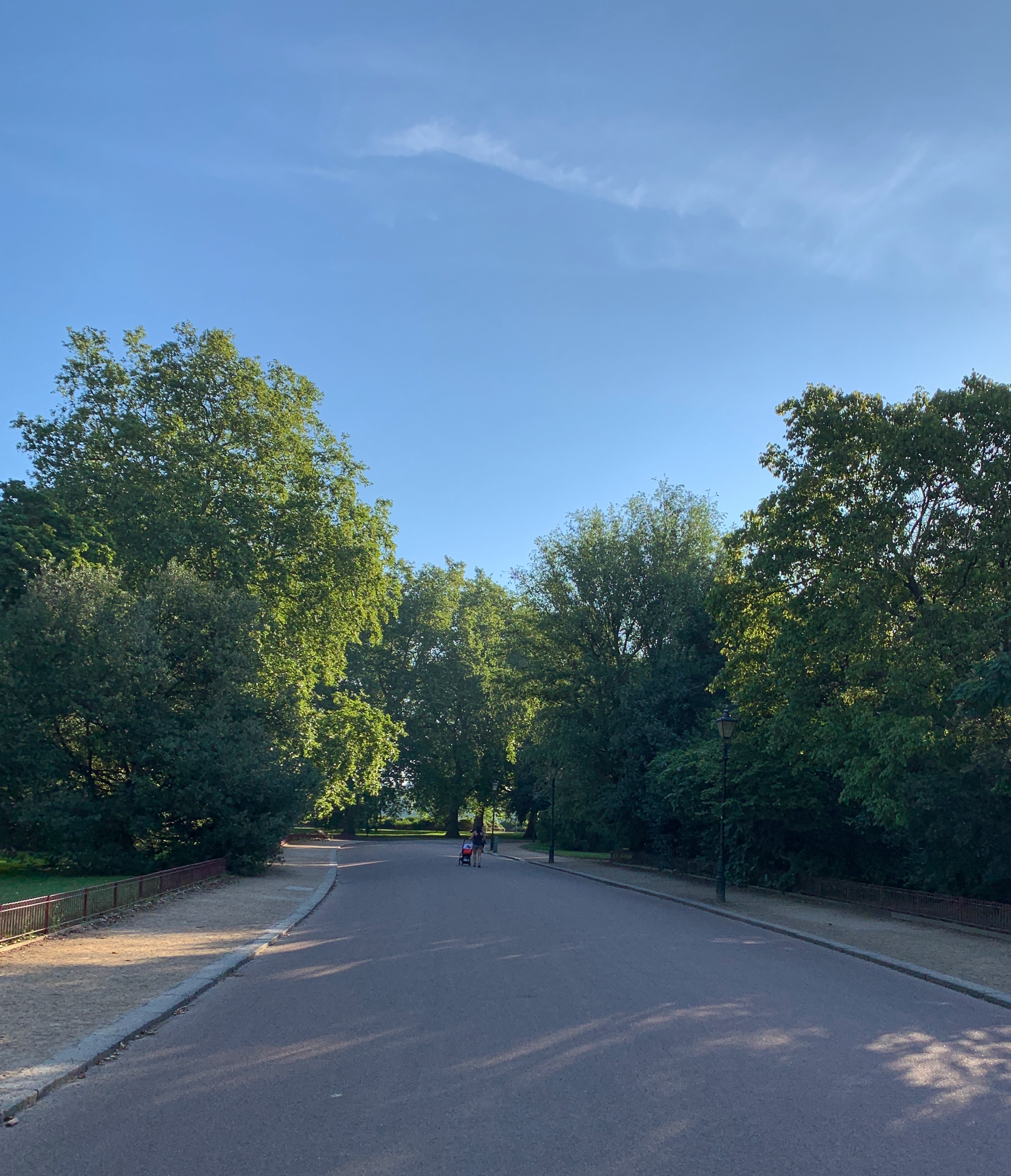 Half way point: Richmond Park
Riding in Richmond Park means many things to many cyclists. Most cyclists see it as where the big clubs congregate and do laps at the weekends. You can smell the testosterone when one of the Canyons and BMC bikes pass by. The majority of cyclists see a ride around Richmond Park as an opportunity to be close to nature. It is London's largest Site of Special Scientific Interest and a European Special Area of Conservation. It has two species of deer in its enclosure. The oldest and most prominent residents of the park are the trees. some of them are so old you can't put your arms around them. You can also spot bats at night, startling creatures who made Chris fall off her bike on one occasion!
The park means many things to Chris who is part of a group ride that runs through it Every New Year's Day, while at the rest of the year it's her weekend asylum, with picnics and kites.
Most of the time the park is our cut through to Richmond avoiding the South Circular. Our leisure ride is through Roehampton Gate to Sheen Cross and up towards the Ballet School, where you can often see the red deer settle down. From there the turn left past Pen Ponds cafe brings you to a long straight drive, all the way to Isabella Plantation. At the end of the road is the junction to Ham Gate. We tend to turn right to go to Pembroke Lodge where you'll see King Henry's Mound. If you decide to stop there you can see a fantastic view of St Paul's to the east, which is protected (no one can build anything in its path and the greenery is kept in good shape so as not to block the view). There is a telescope for people to use if they wanted to see a closer view of the capital. Queen's Road leads to Richmond Gate. The right turn is the return leg home going down Sawyer's hill. If you slow down briefly and look left downhill you can see a fleeting view of the buildings in central London.
During lockdown the view has been crisper with the decrease in air pollution. Rarely do you can stop to admire the view, as the downhill free wheel is too exhilarating to curtail. You can free wheel all the way down to Sheen Cross easily.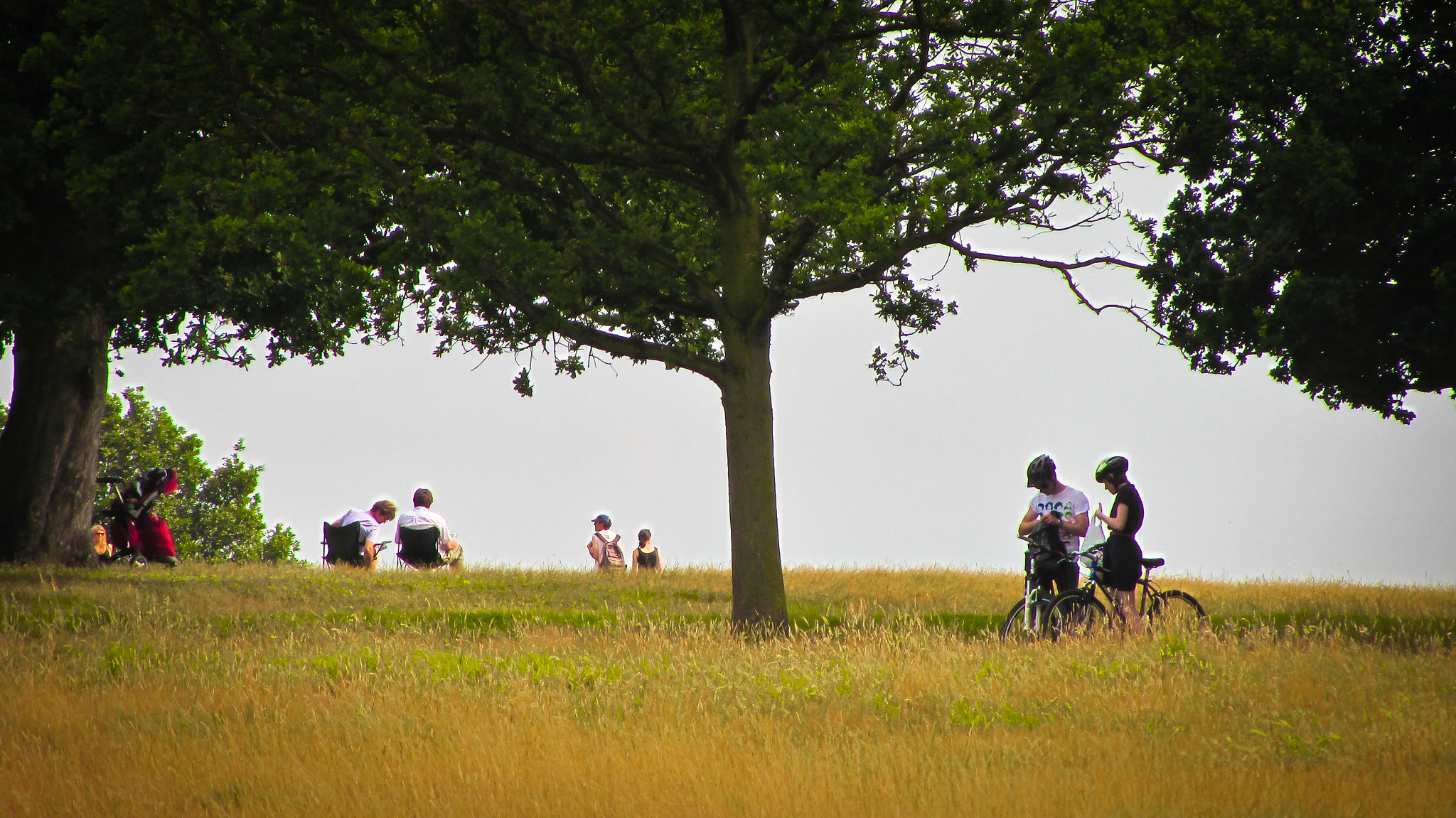 Leaving Richmond Park will put us on a direct route back north (in our case, although as said – this route is circular and can be achieved from every direction). We have crossed Putney Bridge,  just passing Bishop's Park which has a narrow road (on which cycling is allowed) running just on the Thames, ending with Fulham's Craven Cottage stadium – making it a viable option to lengthen this course by 3-4 miles and renaming it to 'Six Parks' indeed 🙂
The way to Regent's Park would go through Kensington Gardens first, which is effectively another road which crosses Hyde Park (Kensington Gardens and Hyde Park are in fact connected).
This is just one way of returning to Regenet's Park, our starting point originally, which goes by the Canal and Little Venice.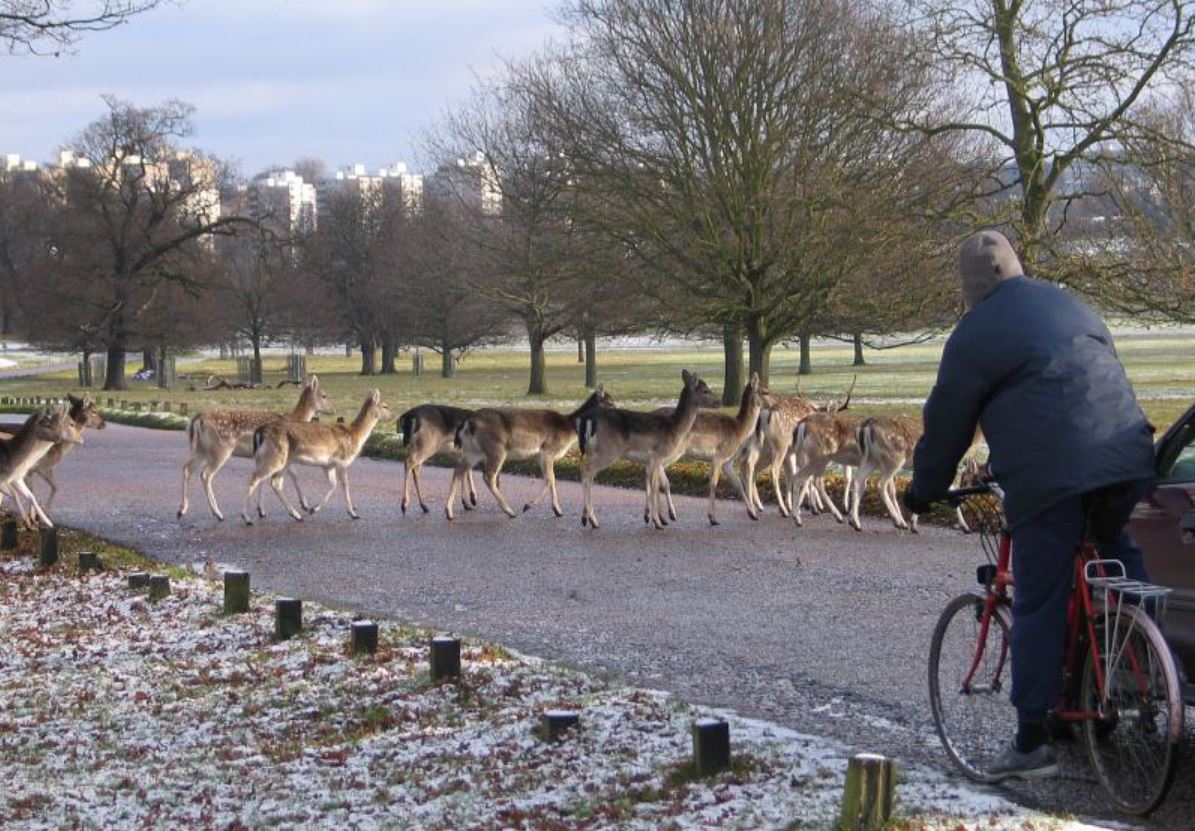 Last park: Regent's Park
Regent's Park is Yoni's home turf, having lived on a second 'tier to the park' street for his first five years in London. It is a mish-mash of things that are all London: high speed slick Lycra clad cyclists along t-shirt bearing amateurs on Boris Bike; tourists shoulder to shoulder with joggers; meticulous botanic gardens and a vast collection of roses against areas of natural and wild foliage.
Even though some people treat it as such, the cycling which takes place at Regent's Park is not at all easy. The Outer Circle (2.8miles / 4.5km) became the favourite spot for the hardcore road cyclists, who compete between themselves in groups of 4-5,  and push themselves to  the limits much like an open-air Olympics velodrome. There is a path along the Canal as well, but it goes through the Park in a very short segment, and it seems that your best chance is to join the circular-cyclists and get clock km's before finishing.
The Inner Circle is less then a mile (0.6miles / 1km) and will grant you a great ending at the Garden Cafe.
Additional Route Data 'social cycling route':
🚴‍♀️ Est Moving time: 2:17-2:37 minutes
🚵🏾 Elevation Gain: 640ft
📁 Download GPX File
🗺️ Route Map: