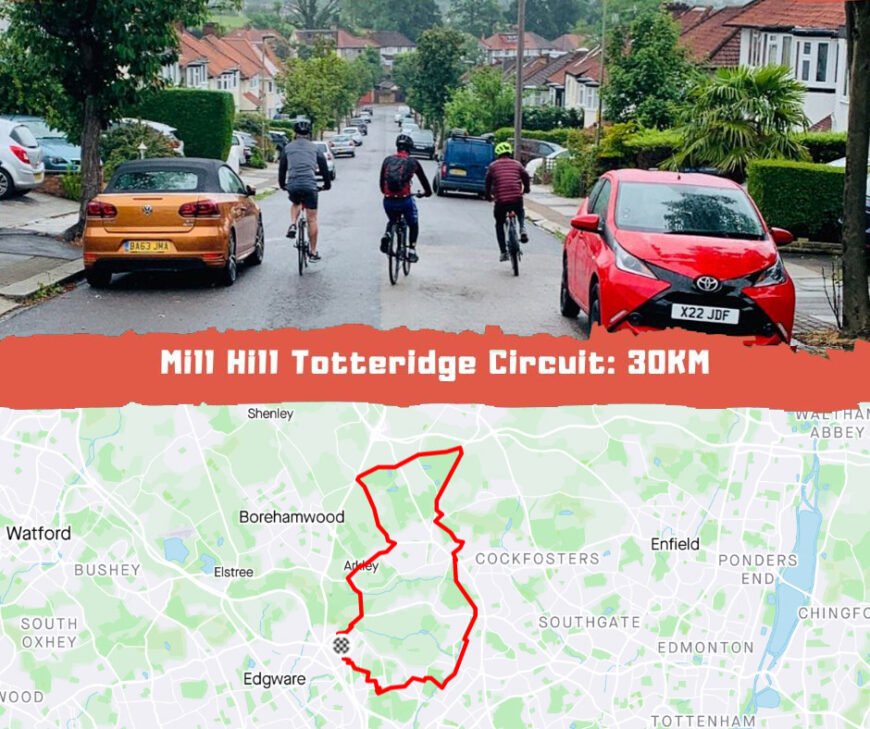 by Cyclist Yoni, rides Brompton, Gravel and MTB
---
📏Distance: 15-20 miles ⏱️ Duration: 1:35-2 hours 🚴 Difficulty: intermediate 🚲 Terrain: Road/Uneven
---
A wise man named Tony once told me "I don't know why everyone moans about the weather in England, if you don't like it – the next day you get something else." And indeed, a sunless morning turned a North London cycling route to a soaking experience, but for the sake of Cyclondon Blog, we've decided to go on with the intermediate hilly adventure. A quick (1:30-2h) circular route which will get your quadriceps toned.
For good measures we have inspected this route a few times, with a few variations, tweaking it between main roads and side roads, to check the best and safest path. Our cycling route leaves Mill Hill at Abbey Grounds, with an uphill effort towards Barnet Gate,which continues being steep right until Whalebones Park, where we head north just at the Arkley Pub.
This road is normally quite nice, on other cycling days we've taken full advantage of the early morning quiet road, and gathered an impressive speed down this descent. However, with today's heavy showers we are being extra cautious, allowing enough space between us, avoiding preemptively a breaking/skidding mess.
On the right hand side we are cruising at a steady 17mph pace past Lewis Of London ice cream farm. At this time in morning the place is obviously closed, but it's a nice attraction, and on a clear day you can catch some grazing cows.
The quick descent ends just before the Barnet-By-Pass where we head on east towards Dyrham Park, this is still a grassland, and a relatively flat 7 minutes effort. Dancer's Hill ascent is 55 ft. over 6% grade, then there are two ways to go forward, either to turn right to the 715 minutes ascent of Kitt's End Road (depending on your gear/pace) or to climb Dancers Hill Road and make a 2km detour which will bring Dancer's Hill elevation to a total of 107 ft, however the average grade is just about 3%. On the other hand, Kitt's End ascent is no chopped liver as well, with a 63 ft. elevation over a 5% grade.
Barnet
The Route here snakes south through Hadley and Chipping Barnett. Road bike users would rather take the straightforward route which passes through High Barnett station. This is a rather fast dual carriageway and cyclists must stay alert.
Another way is to add a kilometre and a half to the route by passing through the Barnet's graveled path. The gate is easy to miss, and looks like a private entrance on Hadley's Green Road. This is where we normally stop to brew coffee, however it was too wet for us today.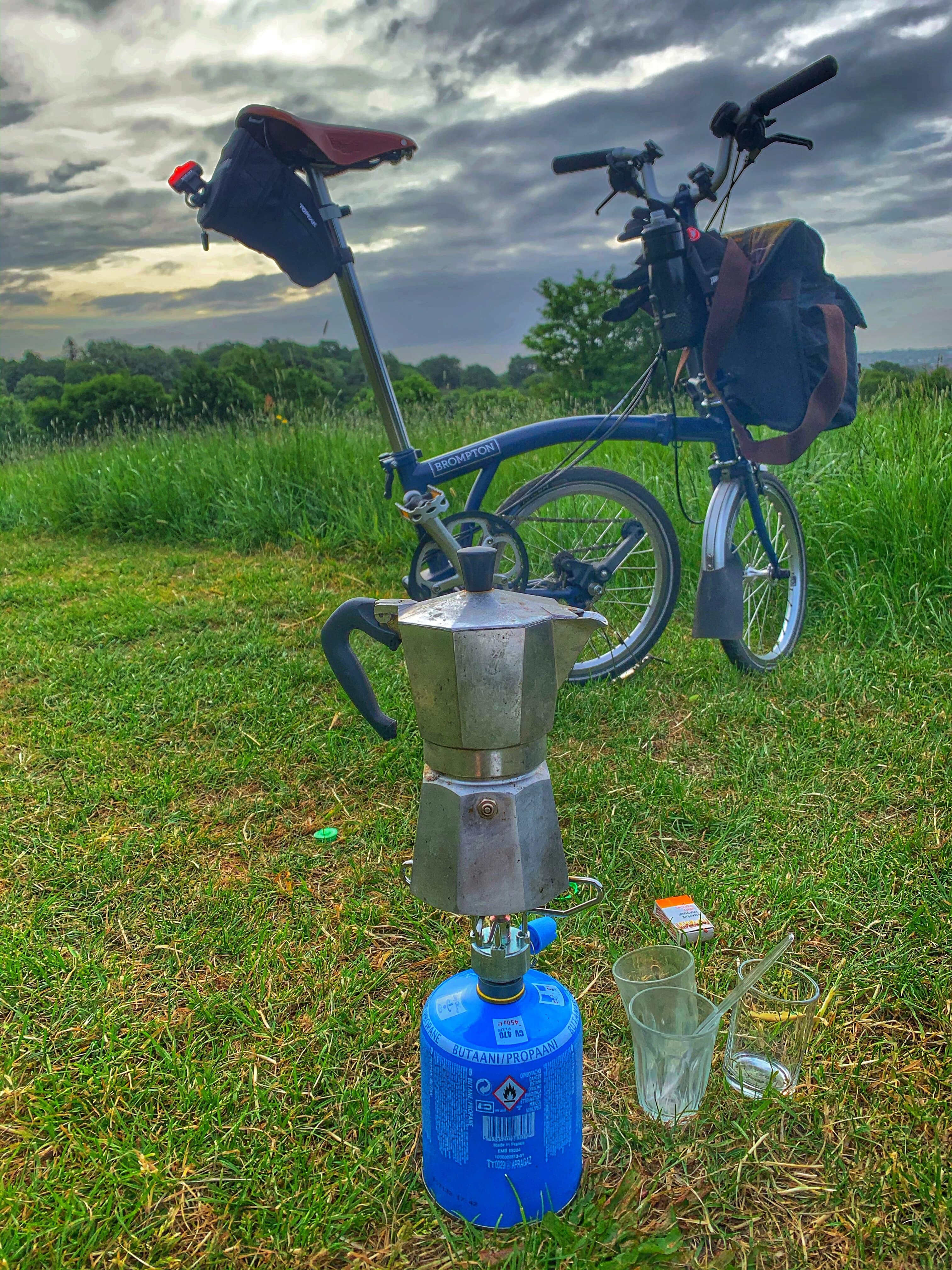 A straightforward cycling route farther south goes through Barnet's playing fields, Wyatt and Brook farm's open spaces. From here we are turning right (back west) through Totteridge on the A5109. On a different day we continue with the park south reaching Woodside Park and West Finchley thus returning to Mill Hill via Mill Hill East (or North Hendon).
Effectively this will add 5 miles to the route, and will make it into a 20 mile circuit (or 32-35 km, depends on which road you chose around the Dyrham Park area).
Today, we took the Totteridge way (A5109) which is quite steep, a 180 ft. elevation difference and an average 2% grade makes it sound like a piece of cake, however after a 15 mile cycle and with 4.4-5.1% grades on the segment, this is quite the effort.
This brings us back to Mill Hill to dry up.
The Fishermen at Totteridge Village are there every morning, come rain or shine.
The beauty of these North London roads is that you can tweak them around a bit and make this a beginners route, or alternatively go the long loop up towards Potter's Bar, making this an expert route instead.
We were drenched, and were happy with our 15 mile run, just in time for a steaming coffee and a shower at home, and yeah – for the sun to finally shine. 
Additional Route Data:
🚴‍♀️ Est Moving time: 1:20-1:53 minutes
🚵🏾 Elevation Gain: 946ft
📁 Download GPX File
🗺️ Route Map: