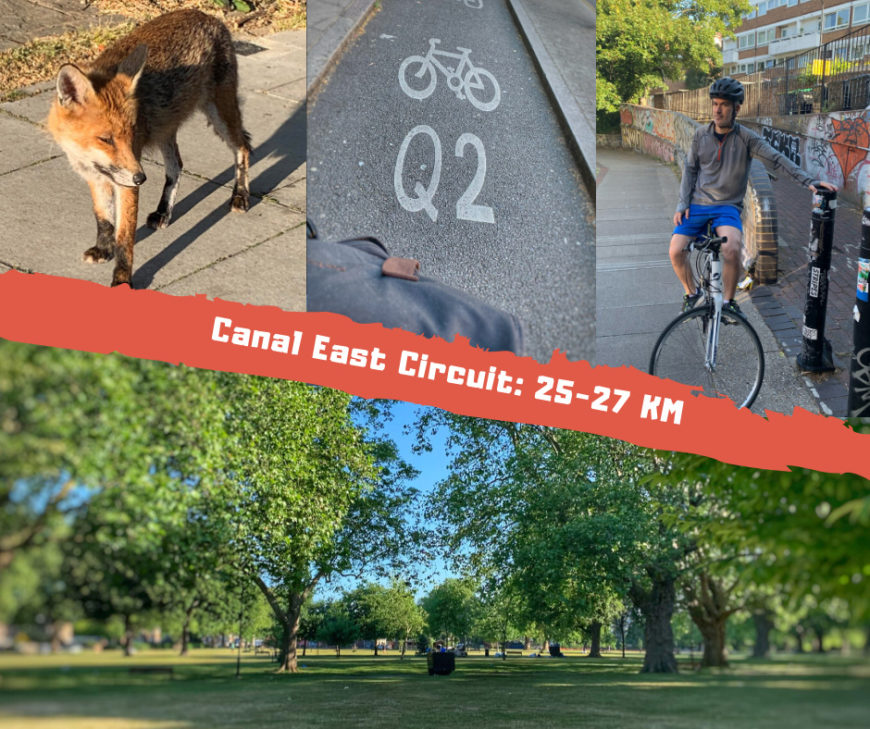 by Cyclist Yoni., rides Brompton, Gravel and MTB
---
📏Distance: 15 miles ⏱️ Duration: 1:15-1:40 hours 🚴 Difficulty: beginner-intermediate 🚲 Terrain: Road/Uneven
---
As one of our suggested routes to start off our Cyclondon Blog, I've decided to go with an easy and relatively flat cycling route in London, that combines roads and uneven pavement. This is great for sunny days as it passes through Regent's Canal, which helps cool the rider off a bit. I've Scheduled to meet "Richard Gere" and the Developer around Primrose Hill at 6:30am. At this point early early in the morning, even the urban Red Fox is waving us off so he can keep prowling around quietly. Everybody's ready? Then let's go!
So foxy… Leave me alone
Start of the Route
Adhering to the social distancing rules for groups, with less than 6 riders we've assembled at Primrose Hill, as the majority of the group are North Londoners. However, the real starting point for this cycling route in London is probably Granary Square. On the Eastern point of the posh Kings Cross square (by the Lighterman Pub) lies an easy ramp which leads down to the Canal.
Route Canal – Cycling on Regent's
On to Victoria Park
The Canal ride is pretty straightforward, however I suggest to start early as people do tend to wake up and hog the narrow kerb. As mentioned, we started early on a Sunday, so 'traffic' was light. The route exits the Canal around Pentonville (where the City of London effectively begins) and a brief ride on City Road, then towards Angel brings us to the Canal again (accessed from Danbury street). Then, the Canal Towpath continues all the way to Victoria Park.
We opted for a break at the Park, setting up the old coffee macchinetta, however at 7am the park was already quite buzzing.
Unlike many London Parks, Victoria Park actually allows cycling through it, so we shifted back westwards, cycling in the park's inner road.
And where's Albert? Vicky Park
Early bird – swan and spectrum
not Starbuck's, but it'll do
London Fields and Islington
From here, we left Victoria Park westwards, cycling through London Fields. The iconic London Park was busy as in pre Corona days, even that early in the morning. We really needed to control our speed and watch out from pedestrians. Exiting west, we cruised through Islington, and connected with Q2 (a "Q" road in London means a Quiet Road – it would still have cars on it, but less traffic generally, and sufficient shoulders for bikes).
Following Q2 would have led us to Angel, but we rather took a right turn which leads to Barnard Park, so that we could approach Kings Cross from Granary Square, and avoid Euston Road's traffic.
London Fields – iconic and busy
ssshhh – quiet road ahead
Granary Squre
Back to Granary Square, which turns to get busy in regular times around 9 or 10am. From here we continued our journey north via Camden Town, however "Richard Gere" had left the group heading towards his Fitzrovia based flat.
This ride, like the rest of the cycling routes in London we've been doing lately, will count toward's Team Kharma's virtual journey from Loughbrough 2 Istanbul. This is the super important Brown family memorial project, who are raising £30,000 to promote understanding of mental health care, of neurodiversity, and do what we can to prevent suicide amongst young people. They are doing it for their son, brother and nephew, Ben, an army undergraduate who took his own life. Donations are welcome via this link, and of course we welcome you to join us and record your rides so we can hit 4,700km of the journey Ben had himself planned. #forBen
Granary Square's fountains
Additional Route Data:
🚴‍♀️ Est Moving time: 1:14:20 minutes
🚵🏾 Elevation Gain: n/a.
🗺️ Route Map:
---